Greetings...and salutations!
We are the new owners of Thyme For Bed: William and Crystal Britzman. We are looking forward to this new adventure! Some background:
William: married to Crystal for 35 years this month! Worked for Fedex for the last 30 years. I recently earned my Associates degree from the College of Lake County(IL). I love cycling and sailing. I currently ride a 30 year old Raleigh that I converted to a fixie. I own a Hobie 14 and hope to sail it on Cedar Lake. Other interests are architecture (especially domes!), guns and dogs.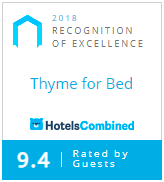 Crystal: married to Bill for 35 years (quite an accomplishment!). She has a Med Tech degree (think organic chemistry) and is leaving her current job of 24 years (Advocate hospital) to run a bed and breakfast! However, she has been in this field since high school. Crystal's talents include cooking, baking, sewing and quilting. She excels at almost anything she puts her mind to, but I may be biased :)
Together we have four boys, four daughter-in-laws, four granddaughters and one grandson. Together we love to ride bicycles, motorcycles, and enjoy spending time with our grandchildren! Family is important to us!Come join us for a night's stay and relax!
Cycling, coffee, and breakfast



Valentine's Day breakfast: Homemade vanilla bean yogurt, homemade cinnamon rolls with maple glaze, and eggs Benedict with roasted potatoes.
From:
Popovers...
to homemade cheese blintzes...
...Or maybe you would rather have a cheddar apple soufflé.

Come join us. Go to Facebook and book your room now!